Cool, Chrome + Cybernetics [C3]
A downloadable Map-Labelling RPG
Cool, Chrome + Cybernetics (aka [C3]) is a lightly competitive map-labelling RPG in a Cyberpunk / Near Future City setting using the Beak, Feather & Bone system by Tyler Crumrine. It can also be used as a tool for collaborative worldbuilding and narratives in this and other Sci-Fi RPG genres.
Starting with an unlabelled city or area map, players are assigned factions to represent before taking turns claiming and describing locations. You are not building a city or area — everything on the map already exists—you're merely fleshing out each building's or section's role in the community. As buildings are claimed, a narrative for the city and its inhabitants will emerge, including major NPCs and shifting power-dynamics.
This is designed for 1 to 10 players but can easily be played with more if you add additional faction roles. For solo play, simply assign yourself multiple factions and alternate between them as you draw cards and label your map.
TO PLAY [C3] YOU'LL NEED
a stack of note cards
writing utensils
colouring utensils
an unlabelled map (provided)
a standard deck of playing cards
sticky notes (optional)
a 10-sided die (optional)
The above of course can also be represented digitally. (Especially if you're a hacker!)
Sample city background: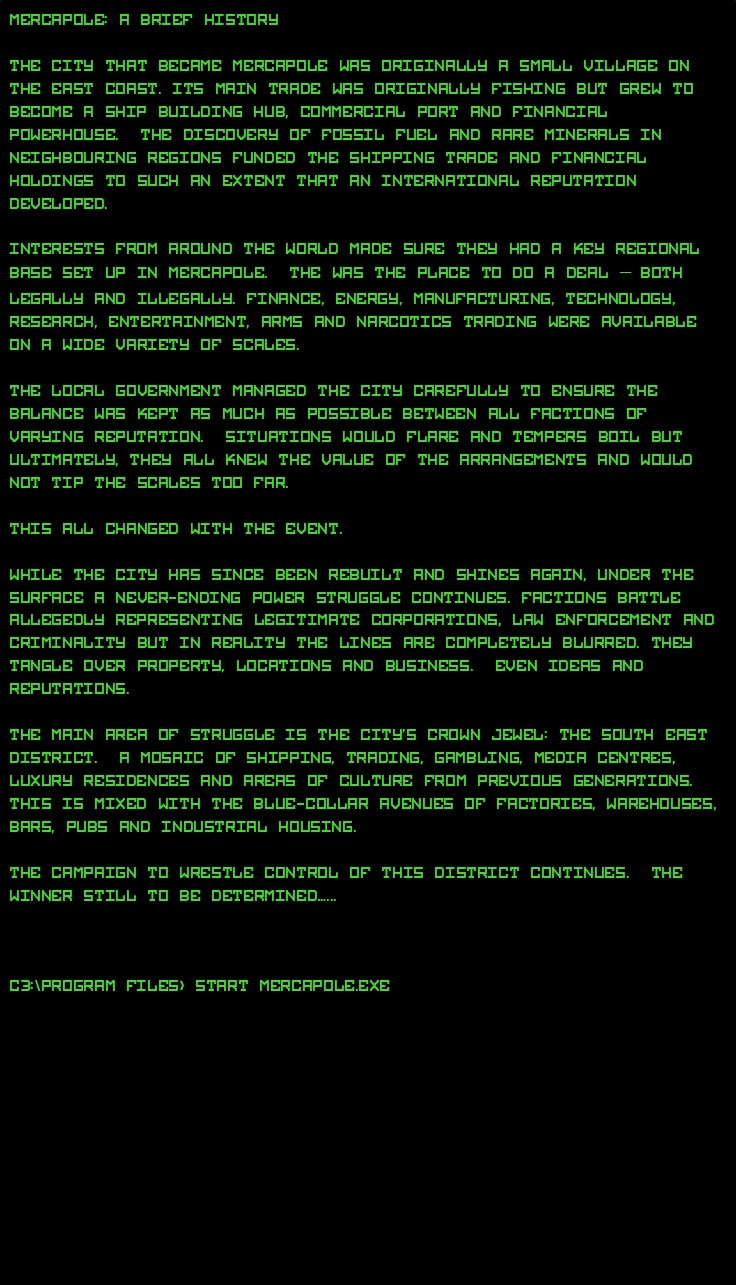 Modules:
Purchase
In order to download this Map-Labelling RPG you must purchase it at or above the minimum price of $3 USD. You will get access to the following files:
C3 World Map v1 Blank PNG
690 kB
C3 World Map v1 Mega Faction Area Map PNG
741 kB
Cool Chrome and Cybernetics v1 PDF
1 MB
Mercapole South East District Map PNG
121 kB
Scale and Faction Type Suggestion Table PDF
200 kB
Community Copies
Support this Map-Labelling RPG at or above a special price point to receive something exclusive.
Community Copies
Grab one for free if you are struggling to find the funds but want to check out the game.